Great Spanish Writers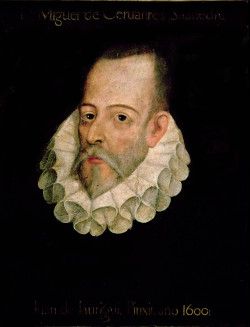 Spain has a long history of churning out fabulous authors and poets, but to name them all within the confines of this article would be a gargantuan task. Instead we have focused on three of the most recognized names in Spanish literature: Miguel de Cervantes, Vicente Aleixandre, and Federico Garcia Lorca.
Miguel de Cervantes
One of the most recognized Spanish authors of all time, Miguel de Cervantes published the country's most famous novel, Don Quijote de la Mancha, in 1580. The eternal success of this novel is well-known, but what many people may not know is that Cervantes led a very difficult life—fitting the mold of the starving artist stereotype of today. Nonetheless, his passion for theatre and literature drove the man to create a true artistic masterpiece that has certainly withstood the test of time.
Although there is no official birth date on record for Cervantes, the name Miguel (or Michael) suggests he was born on or around September 29th, 1547, the day on which the feast of St. Michael the Archangel is celebrated in Spain. It is noted, however, that Cervantes was christened on October 9th, 1547 and born in Alcala, a city near Madrid.
Miguel Cervantes had very little formal education—at least no coursework that was ever recorded. Records indicate that he was a young student of the Spanish humanist Juan Lopez de Hoyos in Madrid from 1568-1569, and went to Rome the following year under the tutelage of Guilio Acquavita, a Roman Catholic Cardinal who was ordained in 1570.
While staying in Rome, and as a way to fund his writing, Cervantes and other Spanish men joined the infantry in Naples. It should be noted that throughout his military experiences Cervantes enjoyed his time and was popular amongst the ranks.
In 1571, the headwaters of war met at Cyprus. In the Mediterranean, on the Gulf of Lepanto, the Ottoman Empire was moving to expand power and land control, and thus Cervantes and his Company was called to fight. According to many accounts, Cervantes fought honorably, ultimately sustaining a wound to the chest, and a debilitating wound to his left hand that earned him the nickname Manco de Lepanto (Maimed of Lepanto).
Shortly after the battle in the Gulf of Lepanto, Cervantes was on passage home when his vessel was captured by pirates. Cervantes was taken to Algiers in Africa and enslaved for 5 years, despite several failed escape attempts.
In 1580, with the help of his family and enormous sums of money gathered by the Trinitarian monastery, Cervantes was finally released by his captors. It is speculated that during the time of his captivity, Cervantes gathered material and inspiration for his first works and the now famous Don Quixote characters. His first play, Los Tratos de Argel (The Treatment of Algiers) was based on his time held captive in Africa.
In the year 1584, Miguel Cervantes married his wife Catalina de Salazary Palacios; the couple did not have any children, although it has been proven that Cervantes did have a daughter through an affair with a local actress in the region. Cervantes would ultimately leave his wife and face unrelated financial difficulties that landed him in jail several times—on one occasion he was even suspected of murder, although he was never tried.
In 1605, now back in Madrid, the first installment of Don Quijote was released and was met with immediate success. In 1615, the second and final installment was published and also found astonishing success; both pieces were later translated into English, French, and Italian. Unfortunately, Cervantes had earlier sold the rights to his work, and although some of his financial burdens were eased by this sale, he never managed his money well enough to become a wealthy man. The silver lining for Cervantes was the literary recognition he gained for his amazing literary talent, the majority of which came after his death.
In addition to Don Quixote, Cervantes also wrote dozens of plays and short stories, though none gained the same popularity of his famous novel. In his collection entitled Ocho Comedias y Ocho Entremeses (Eight Comedies and Eight Interludes, published in1615) an ill Miguel Cervantes bids farewell to his readers in the prologue, knowing full well that his death was imminent. His final novel, Los Trabajos de Persiles y Segismunda (The Exploits of Persiles and Segismunda) was published at the end of his life in 1616.
Vicente Aleixandre
Vicente Aleixandre led an accomplished life as a Spanish poet, winning national Spanish and international recognition for his many works. The most notable and distinguished honor was his appointment to the ranks of the Nobel Prize winners for Literature. Aleixandre´s style typically included surreal images of solitude, time in transition, love and sex.
Vicente Aleixandre was born in Seville, Spain in 1898. His family later moved to Malaga, where Aleixandre internalized the breathtaking landscapes of the city for inspiration. Sun drenched countryside, typical of Malaga, often made its way to the pages of his beautiful works. Aleixandre´s family moved again in 1909, this time to Madrid, where Vicente Aleixandre attended both secondary school and university courses. Aleixandre received a Law Degree in 1920 from the University of Madrid.
After working for a time as an employee for Andalusian Railways, in 1922 Vicente Aleixandre fell very ill, with many reports describing him as "nearly invalid." As a result, he decided to move to his father´s estate on the outskirts of Madrid as a way to guard against further health problems. His father's country home turned out to be the perfect respite for Aleixandre, affording him the peaceful environment he needed to further develop his writing.
While in this environment, Aleixandre spent many of his waking hours in solitude, meditating, writing and reflecting on his inner voice. Many of the themes in the poems he later created at this stage of his life reflected the author's reclusive state. In fact, at one point he was quoted as saying: "Solitude and meditation gave me awareness, a perspective which I have never lost: that of solidarity with the rest of mankind."
The year 1928 marked Aleixandre's first major publication, entitled Ambito, a compilation of beautiful poems about nature and love. In 1933, the poet won the prestigious Premio Nacional de Literatura award, beating out other famous Spanish writers, including Federico Garcia Lorca, Rafael Alberti, Luis Cernuda, Pedro Salinas and Jorge Guillén.
Around the year 1935, Franco´s military suppression of Spain, along with the Spanish Civil War, commenced. As a result, Aleixandre was forced to stop publishing works because of his political opinions.
After Franco´s authority had waned and the ban on certain types of literature was lifted, Aleixandre published the works, Poemas Paradisiacos (1942) and Shadow of Paradise (1944). Almost certainly written during the restrictive Franco Era, these award-winning works, which promoted free thinking and other themes embraced by Aleixandre, were eventually sent to print in the 1950s and 1960s.
Other works by Aleixandre, including Mundo A Solas (1950) and Historia del Corazon (1954) focused on the idea of human solidarity, with themes that included death, hope, struggle and loneliness. For his new approach to literary themes, the writer, in 1950, was elected to the Royal Spanish Academy (RAE) for literary excellence.
The greatest honor bestowed on Vicente Aleixandre came from the Nobel Literature Academy in 1977, an award recognizing his "creative poetic writing, which illuminated man's condition in the cosmos and present-day society, and represented the great renewal of the traditions of Spanish poetry between the Wars." Sadly, Aleixandre was too weak to receive the award himself, so a good friend of the author acted as his proxy during the Academy's awards celebration. Mr. Aleixandre died in his home near Madrid on December 14th, 1984.
Federico Garcia Lorca
It is literally impossible to study Spanish literature without coming across the name Federico Garcia Lorca, arguably one of the most important characters to emerge in Spain's cultural history. Lorca's popularity is not solely due to the splendor of his famous surrealist masterpieces, such as Bodas de Sangre (Blood Wedding), Yerma, and La Casa de Bernada Alba (The House of Bernarda Alba), but also due to the interesting period in which he wrote—a time when many important cultural figures also emerged in Spain, including Luis Buñuel and Salvador Dalí, with whom Lorca was even rumored to be romantically involved.
This particular group of artists/novelists/poets came to be known as the Generation of '27 (Generación del 27), a group made up of poets such as Rafael Alberti, Jorge Guillén, Gerardo Diego and Luis Cernuda. This poetic period is marked by important Lorca publications, such as Romancero Gitano (The Gypsy Ballads) and the Poema del Cante Jondo ('Poem of the Deep Song'), among many other well-known pieces.
Sadly, the Generación del 27 was somewhat crippled by the Spanish Civil War. In fact, Lorca himself was murdered by a group of people suspected to be Nationalists, and a general ban was placed on his collective works—a ban that remained in effect until 1953. His early and unexpected death is often cited as (at least) part of the reason for the popularity of his treasured works. The truth, however, is that his masterful writing style and unique take on the nation's history would alone be enough to ensure his rightful place in Spanish literary history.
Born in Granada in 1898, Federico Garcia Lorca moved to Madrid in 1919, but it was not until 1927 that he started to become truly respected as a dramatist and poet. It was in that year that his play Mariana Pineda opened to great acclaim in Barcelona. In 1929, while feeling estranged in the land he called home, Lorca's family arranged for him to go to New York, where he wrote the classic Poeta en Nueva York, a piece in which he used a variety of original poetic techniques to express his feelings of isolation in the city.
In 1930 Lorca returned to Spain, and in 1931 he became the director of a university theatre company. It was while touring with this company that he wrote his famous works Bodas de Sangre ('Blood Weddings'), Yerma and La Casa de Bernada Alba.
Naturally, this brief article only scratches the surface of the many famous Spanish writers and poets, a list that could certainly include greats such as Miguel Delibes, Jorge Guillen, Rafael Alberti, Gerardo Diego, and Pedro Salinas, among many, many others. Learn to write like Spanish greats with www.customwritings.com.