Natural Sites of Madrid, Spain
Category: Madrid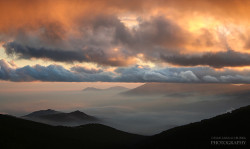 When most people hear the words "Madrid and tourism" used together their thoughts likely turn to the hundreds of museums, galleries and historic monuments this bustling Spanish capital has to offer. This is certainly understandable. Madrid is undeniably one of the world's most culturally and historically significant cities and home to countless collections of artistic masterpieces and some of the most majestic architecture on the planet. However, what many may not realize is that Madrid is also a city that possesses great natural beauty—a beauty reflected in its mountains, rivers, lakes and forests. These natural sites serve as a respite from the fast-paced life of the city and provide countless opportunities for rest and recreation through activities such as hiking, fishing, hunting, boating and skiing. To help you become more familiar with some of these pristine locales, below we have identified several of Madrid's natural playgrounds and provided a brief description of each.
One of the reasons Madrid is so very popular as a tourist destination is the diversity of sites and attractions it offers, each providing an opportunity for enjoyment, enlightenment or both. This includes many natural sites both within and just outside of Madrid where people can escape the hustle and bustle of the city and recharge their collective batteries.
Some of the most popular of these natural sites include:
Rio Manzanares. The Manzanares River, which flows from the Sierras de Guadarrama, and passes through Madrid on its way to the Jarama River, is the most important waterway in the Spanish capital. Not only does it supply Madrileños with most of their water supply, it affords them an abundance of recreational opportunities, including boating, fishing and water skiing. Its upper basin, a favorite spot of hikers and nature watchers for its untouched beauty, is protected by the government as a Natural Reserve. Not surprisingly, the river was often used as the backdrop for many famous Spanish paintings, including several by Francisco Goya in which children and families are shown picnicking and playing at the water's edge. It is also considered by historians as the chief reason the area now known as Madrid was initially settled by the Muslims.
Madrid Rio. Also known as Madrid Riverside Park, Madrid Rio is a glorious recreational oasis that stretches for 10 kilometers along the banks of the Manzanares River. The park offers a wide array of sports and leisure facilities, and features plenty of green space and several historical monuments. Children can play at one of the seventeen park playgrounds, or cool off from the summer heat at the Urban Beach, an area formed by three oval-shaped water areas with different effects: a smooth stretch of water, jets of varying heights and a cloud of water vapor. Youth and adults can practice their skills on the tennis and paddle courts, or take place in a game on one of the many football pitches the park has to offer. Joggers and cyclists can be seen regularly along the Salon de Pinos, a gorgeous 6-kilometer tree-lined promenade along the river, and the Aniceto Marinas Gardens, offering a treat to the eyes and nose, is just one of the many green spaces you'll encounter along the way.
Playa de Madrid. Made possible by a large reservoir that catches the Manzanares River as it passes through the Monte de El Pardo, the Playa de Madrid is a wildly popular locale for summer-fun seekers. The beach, which is located near the Zarzuela Hippodrome just two miles upstream from the San Fernando Bridge, offers something for everyone's tastes, particularly in the category of water sports. So whether you're into boating, skiing or just basking in the warm Madrid sun, the Playa de Madrid is definitely the place to be.
Although this is merely a brief sample, the complete list of natural sites and recreational areas in Madrid would of course stretch on for many more pages, with sites that could include the Puerto Navacerrada, Monte de El Pardo, Embalse de Santillana and the beautiful lakes and natural flora of Retiro Park among others. Collectively these sites offer tourists a diversion and change of pace from the traditional sightseeing schedule, and an opportunity to see and experience firsthand the many ways in which Madrileños enjoy their city's natural landscapes and waterways.