Pamplona, Spain
Category: Locations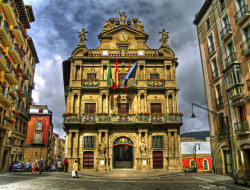 Founded by Pompey of Rome on the Arga River, Pamplona, which means 'city', has been an important city in the history of Navarra, Spain. It has been conquered by Arabs, Vascones, and Moors. Pamplona sits on a beautiful fertile plain with the nickname 'The Gateway of Spain'.
Today it is a wealthy, modern, university city with wide boulevards and spacious parks but still retains a charming old-fashioned center, 'El Casco Viejo'. Here you can find the 'Plaza de Castillo', shaded by clumps of plane trees and surrounded by stylish cafes. On the southwest corner lies the 'Paseo de Sarasate', covered with stone Kings and Queens and the 'Monumento a los Fueros'.
On the east end of the 'Plaza del Catillo' there are many narrow streets packed with shops and bars, once the 'Juderia', the Jewish neighbourhood. Further along lies a 14-15th century Gothic cathedral, which was once the second largest in Spain.
By far the most important reason anyone had ever heard of Pamplona, The fiesta of 'San Fermines' was originally made famous by Earnest Hemingway. The running of the bulls takes place every July in honor of the town patron, San Fermín. The whole city comes to cheer on a group of brave (or insane depending how you look at it) runners who try to stay ahead of the bulls without getting 'caught' as they run around the city streets. Afternoons for this week long event are dedicated to bullfights and heavy feasting.
References: Explorer Spain, Northern Spain – Cadogan Guides