Study Architecture in Algeria, Architecture Schools in Algeria
Below is a list of schools that match what you are searching for:
Contact:
Université Amar Telidji de Laghouat
Route de Ghardaia, BP 37G

,

Laghouat

,

Algeria
Contact:
Université de Mostaganem
Ex-ITA, P.O.Box 227 & 118

,

Mostaganem

,

Algeria
Find Schools by city:
Laghouat
Mostaganem
About Architecture in Algeria, Architecture Schools in Algeria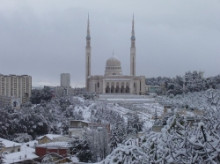 Algeria, officially known as the People's Democratic Republic of Algeria, is a country in North Africa, located on the coast of the Mediterranean Sea. With nearly 2.4 million square kilometers of total geographic space, it is the largest country in Africa and tenth largest country in the world by area, and its population of over 37 million makes it the 34
th
most populous country on the globe. The capital and largest city in Algeria is Algiers.
Architecture in Algeria
The architectural landscape of Algeria is fascinating and diverse. The country has almost always been seen as a crossroad or dividing line between the east and the west, and as such, it has seen many different cultural and architectural influences over the years.
In ancient times, the strategic position of Algeria meant that the world's major military powers of the time would do almost anything to gain control over the country. Consequently, Algeria's various empires and dynasties, which included the ancient Berber Numidians, Carthaginians, Romans, Vandals, Byzantines, Arab Umayyads, Fatimids, Berber Almohads and later the Turkish Ottomans and French, all helped to shape the culture and architecture that can now be seen today throughout the country. This is particularly true when it comes to the Arab influence, a group that has had the most lasting and extensive effect on Algeria's architecture, but there are also signs of other cultural influences, ranging from Phoenician road signs to ancient Roman ruins to large communities of French-speaking Arabs.
The best place to begin an architectural exploration of Algeria is in the capital city of Algiers—a city founded over a thousand years ago that now features a beautiful and stunning mixture of ancient masterpieces and modern structures. The old area of the city is the ideal place to begin your tour of the more historical buildings, beginning with the Casbah, an area characterized by crowded lanes and markets, and supported and surrounded by some breathtaking older buildings. Here you will find a number of mosques and Moorish palaces, all dating back to the 11
th
century. Modern structures worthy of note in Algeria include a number of fine hotels, including the El Aurassi Hotel, the Aldjazair Hotel, the Sofitel Alger Hotel and the Jardin d' Essai. You might even venture to stay a night or two at one or more of these graceful buildings during your stay.
After visiting all that the city of Algiers has to offer, you should definitely consider taking a tour of some of the surrounding towns as you head out towards the city of Timgad. Timgad features a number of very interesting and historically significant Roman ruins. The ruins, which are well preserved due to the optimal Algerian atmosphere, include a collection of beautifully detailed and colorful mosaics, an amphitheater and a number of other artifacts.
As you make your way through some of the smaller towns and villages in Algeria you'll find an abundance of interesting architectural pieces, including several French-colonial style fortresses, ancient and colossal Arab-styled homes, and uniquely rounded mud-huts, mostly in the more rural areas of the country. Mosques and other religious buildin
gs
also tend to showcase some of the remarkable architectural trends of the past—trends that make Algeria such a wonderful treat to visit.