The university stage is an important turning point in life. It is a life-changing decision, which is why it's important to get to know both the school and the city of your choice. This is particularly important when thinking about studying abroad. In order to help you with your decision, we will present Miami, Florida, one of the best cities in the world when it comes to higher education and quality of life.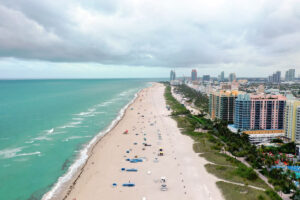 To begin with, it's a coastal city visited by millions of tourists every year. The first thing that will overwhelm you is a fusion of cultures with European and Latin American influences. English and Spanish are equally as important in this city, which will make it easier for you to adapt to the new environment. This is just one of the many reasons why students all over the world consider Miami to be one of the most attractive destinations when it comes to higher education.
Cultural and educational aspects of this city are also at a high level. Miami gives you an opportunity to attend excellent schools and experience additional development by attending cultural events, exhibitions, concerts, etc. There are many reasons why studying in Florida, particularly Miami, is an excellent idea; here are the most important ones.
Great cultural scene
Miami will not leave you indifferent regardless of whether you come to study from the USA or abroad.
A multicultural experience – this city is home to different cultures, primarily due to its historical heritage. Given that Florida was a Spanish colony, the Spanish influence is still felt in the language, architecture, music and food. And when it comes to the Cuban influence, suffice it to say that one neighborhood is called Little Havana. The combination of different cultural influences creates an incredible blend that makes living in Miami exciting.
World-class sports – keep in mind that Miami is an important sports hub where you can follow local teams in all team sports that are popular in America (Heat, Dolphins, Marlins, Panthers). And if you're a fan of soccer (or football as the foreigners would say), don't worry – the citizens of Miami are great aficionados of the most important sport in the world.
Culture – one can't imagine life here without music or the arts. The city has a unique combination of Latin American and European influences. You can listen to top-quality Jazz and Latin music coming from the clubs and restaurants on Ocean Drive. Moreover, the city has a rich history that enables you to enjoy the Art Deco architecture of South Beach together with the beautiful buildings from the colonial period.
Excellent education system
Miami is one of the largest education centers in the USA that significantly invests in modern education. It's good to know that local colleges are not isolated islands of knowledge but part of a developed system devoted to students from an early age. Many schools provide 21st-century learning skills aimed at preparing students for the best universities around the world.
With such an advanced local education system, you can be sure you'll be learning with the best students around. Alongside them, you will excel and easily gain skills for a lifetime. This is exactly the advantage of modern education – it enables students to do well in team tasks and use their full potential in order to be the best version of themselves.
Such an environment is a true inspiration for personal development and learning that will help you have a successful career later on. Moreover, Miami offers excellent universities that cover sciences, humanities and the arts. The choice is yours.
Wonderful weather and beaches
If you like sunny weather throughout the year, opting for Miami is a no-brainer. There is no better recommendation than the average winter temperature of around 75 F. The great climate opens up numerous possibilities when it comes to scuba diving, fishing, paragliding and other seaside activities.
And best of all, Miami is actually one big beach, meaning that you will be able to spend your leisure time at the seaside whenever you like. Also, South Florida is the center of the world for students during spring break. For many, the chance to study in such an attractive city is a once-in-a-lifetime opportunity!
Opportunities for personal development
No matter where you choose to attend college, prepare yourself for some significant changes. Going to college means becoming independent and stepping out of your comfort zone. The choice of school affects the next four years of your life, so choose wisely. If you opt for Miami, you will learn a lot; not just at school but through many activities, part-time jobs and hanging out with people from all over the world.
This period will prepare you for the business world which you will enter with confidence in yourself and the knowledge you have acquired. As you can see, studying in Miami is an excellent idea, so start planning how to make your dream come true. The best way is to be dedicated to acquiring modern 21st-century skills. If you achieve this, the doors to the best colleges and universities will be wide open!