For anyone who has ever considered studying abroad, you will be more than aware that there is an abundance of choice. The list of things that you need to take into account is basically as long as you allow it to be. If you are looking for a single country that offers a variety of experiences all under one roof, then we are here to suggest that you strongly consider choosing Spain as your destination of choice. This article has been put together to explain how you can go about studying in Spain, why you should do it, and where you can go. So, without further ado, let's get started…
How Can I Study in Spain?
There are, of course, many ways to go about studying in Spain so we have decided to focus in on one in particular. EF, or Education First, offer a great selection of experiential learning programs, allowing you to embed yourself within the daily rhythms of Spanish culture. If you decide to study abroad in Spain, EF focuses on language, travel, cultural exchange, and academics, which means that you can find a program that is perfectly catered to your needs and wants. So whether you want to simply discover the Spanish language and culture, or study at a Spanish University, EF has a pathway for you.
Why Should I Study in Spain?
Spain is a fantastic location choice for studying due to the fact that it offers a variety of experiences within its borders. So whether you are looking to become one with the hustle and bustle of a Spanish city or experience a more relaxed lifestyle choice, there is an option for you.
Spain is known for being one of the most inviting countries in the world so you will have no problems settling in. Furthermore, the food, architecture and weather are simply amazing. While these aspects may not be the first to come to mind when you are considering study options, they truly do make a world of difference once you realise that you are going to be spending a substantial amount of time in a new country. It is also worth pointing out that Spain is home to some of the most prestigious universities and research centres in the world, so when it comes to your professional progress, you are in safe hands.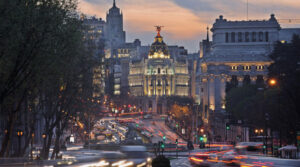 Where Can I Study in Spain?
This is where Spain really has an incredible array of choice. If you are looking for a city atmosphere, there are options in both Barcelona and Madrid that will allow you to see what city life in a Spanish city is really like.
However, if you fancy spending your time in a more relaxed environment, soaking up the sun on the Mediterranean coast, you can opt for Malaga, which while being Costa del Sol's largest city, offers an idyllic daily routine.
The Bottom Line
Whatever it is you are looking for, Spain can provide it for you. It is incredibly easy to find out everything you need to know in terms of international travel information, including visas, online so if you feel like Spain is the right choice for you, its smooth sailing from here on out.