Selecting a University, School or Program in Spain
Category:
Studying in Spain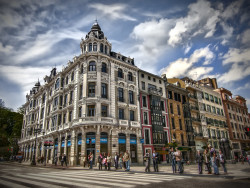 Selecting a university, school or program is a major decision that should not be taken lightly. Like with other decisions you will make, it could have consequences that will impact your life. The outcome of your education will depend not only on the institution and program selected, but also on your ability to adjust to a new environment and your commitment to reach your goals.
When selecting a school or university, you should consider the school's student to instructor ratio, the characteristics of the faculty, the University's reputation, its location and facilities, and the number of graduates that found employment and where. Following is a list of questions for international applicants to ask themselves regarding reliable institutions by Amy Kirle Lezberg, New England Resource Center for Higher Education.
Narrowing Your Choices
College or University? Public or Private?
In what country or region of the country? Urban, rural or other setting? Size of institution?
What can you afford to spend annually for your college education / What are the estimated total costs of the institutions you are considering? What Does The Institution Have To Offer You?
Is the institution and are any of its programs accredited?
What are the academic qualifications for acceptance and what are your chances of being admitted?
Does the institution offer majors/programs that interest you?
What will you be spending your time learning?
What kinds of electives/interdisciplinary courses are available?
Can you participate in any alternative learning experiences? Are internships available and/or required?
Are faculty members teaching in the field where they earned their degrees and regularly available for out-of-class conferences?
What libraries and other learning resources are available to you?
What orientation programs does the institution have for foreign students? Choosing Among Likely Alternatives
Is there on-campus housing for four years if you want it? Can you imagine living in the dorms?
What kinds of extracurricular activities are offered? Is there a variety of intramural sports for both men and women?
What is the role of any fraternities and sororities on campus?
Are there job opportunities for international students?
What is the makeup of the student body (male/female ratio; age range; ethnic composition; geographical distribution)?
Do you think you would be happy at this college? Where To Find Information
Look through college guides and web sites (many tour the campus)
Contact students at and graduates from the college in which you are interested and ask them why they went there and whether their expectations have been/were met
Some international students are able to write like students who speak native English in America, in the UK and in Australia. However, international students and working students who find it difficult to write their own paper can order research paper at WritingsPro.com and get their term paper done. This is the most convenient way of ensuring that you submit your student assignment on time.