Online Degree, Online Courses and Distance Learning in Philippines
Los Baños, Philippines
The mission of the UP Open University is to provide access to a higher quality of education to more people, while adhering to the highest standards of academic excellence. The Open university offers undergraduate, graduate, masters and doctorate programs.
Online Degree, Online Courses and Distance Learning in Philippines by City:
Los Baños
About Online Degree, Online Courses and Distance Learning in Philippines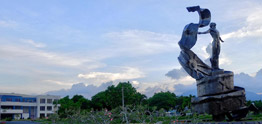 Philippines Open University
Distance learning, an educational format in which students complete the majority or all of their studies through online courses, is a fairly new phenomenon, but one that is rapidly becoming popular—and quite effective—throughout the developed world. Some countries, such as the United States, Canada and most of Europe, now have formal online distance learning programs at most of their universities—programs leading to degrees and certificates in a number of different academic and vocational fields. Other countries, such as the Philippines, have only recently begun implementing this online format, but thus far the results have been excellent and have led to rapid expansion in terms of the number of programs offered.
Finding Online Degrees in the Philippines
Distance learning schools in the Philippines, at least those that have been accredited by either the Philippine Commission on Higher Education (CHED) or the Technical Education and Skills Development Authority (TESDA), are, unfortunately, few and far between. The reasons for this low number are many, but high on the list is the relative newness of this type of program and the lack of resources needed to carry it out successfully. Despite this, the success shown at those universities that do offer distance learning is a good sign that these programs will soon spread to other schools.
There are currently fewer than 10
universities in the Philippines
offering distance education through online courses and degrees, and most of these do not offer a full "online" program, but rather a modular one. In this type of distance learning students receive self-instructional modules, usually delivered to them via email, to be completed at their own pace. This is how the majority of instruction is conducted, and for the most part, Philippine students find it very convenient. However, in many of these online programs, assignments must be personally submitted and examinations physically taken on the school campus. While this is still more convenient than traditional learning, it may often preclude those individuals who cannot reasonably attend these campus sessions.
An exception to this modular format is the "true" distance learning program offered by the University of the Philippines, located in the capital city of Manila.
Online Degrees at Philippines Open University
On February 23, 1995, the University of the Philippines Open University (OPOU) was established. At this school, the mandate and mission are very simple: to provide educational opportunities to all people who wish to participate in higher education and improve their expertise, but because of personal or professional obligations are not able to take advantage of traditional university offerings. In other words, by offering a full distance learning program, one using all the technological means available to them, including email, messaging, video conferencing and virtual classrooms, the school sends a strong message that it—and the country of the Philippines—support the notion of lifelong learning and equal access to the educational system, regardless of distance or time constraints.
Many schools in the Philippines, especially private universities, are beginning to follow the lead of OPOU and are now offering online degree and certificate programs in a number of different academic and vocational fields. Some schools even offer enrichment courses using this online format, including many Philippine language schools, teaching both
English
and
Filipino
to non-native residents and those studying abroad.