Study Psychology in Belgium
Find Schools by City:
Antwerp
Elsene
Ghent
Leuven
Louvain-la-Neuve
Mons
Psychology Studies in Belgium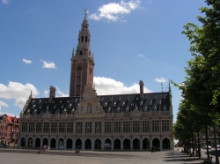 Study Psychology in Belgium: Overview
Psychology is one of the most popular and important educational disciplines, a field with an endless number of real-world applications. And if you are a prospective student who is thinking about pursuing psychology as a potential career path, there is perhaps no better place in the world to earn your academic and professional credentials than in the beautiful country of Belgium. To illustrate this point, below we have provided some details about studying psychology in Belgium, beginning with some useful facts about the country as a whole. We have also included a brief description of psychology as an educational major in Belgium, and listed some of the reasons why Belgium is such a popular study destination for students studying abroad.
About Belgium
Belgium, officially known as the Kingdom of Belgium, is a federal state located in Western Europe. The country is a founding member of the European Union, and home to the EU's headquarters, in addition to those of NATO and several other major international organizations. A fairly small country, Belgium has a total land area of just under 11,800 square miles (30,600 square kilometers), and a population of roughly 11 million inhabitants. The country lies on the cusp between Germanic and Latin Europe, and as such, it is home to two primary linguistic groups: the Dutch-speaking group, mostly Flemish, accounting for 60 percent of the total population; and the French-speakers, mostly Walloons, who account for most of the remainder (there is also a small community/minority of German-speakers within the French area of Belgium). The two largest regions in Belgium are Flanders, located in the north portion of the country, where Dutch is the primary language; and Wallonia, in the southeast, where French is spoken almost exclusively. The region that is home to Belgium's capital city—the city of Brussels—is one of the only bilingual regions (Dutch and French), although the area is entirely within the Flemish territory of the country.
Psychology Education in Belgium
Belgium has recently changed its credit and degree structure, in accordance with the EU's Bologna Process, in an effort to uphold the quality of higher education and to ensure the promotion of student mobility and the democratic nature of its academic system. This changes ushered in a uniform degree structure for nearly all of their universities' academic disciplines, including psychology; a structure that now consists of a three-year Bachelor Degree program, with an additional two years required towards the completion of a Master's Degree in the same or related field.
One of the universities offering psychology as an undergraduate and graduate academic major is the Catholic University of Leuven, a Dutch-speaking university in the Flanders region of Belgium. Located in the center of the historic town of Leuven and home to over 40,000 students, the university has been offering programs since the year 1425, making it not only the largest university in Belgium but also the oldest.
The Catholic University of Leuven, as well as the other major universities in Belgium, offers both undergraduate and Master's degree programs in psychology. Students who pursue this degree in Belgium will receive a solid foundation in the areas of coaching psychology and counseling, as well as in the history of scientific psychology and its clinical applications, including the areas of physiological psychology, neuropsychology, psychopharmacology, cognitive and affective bases of behavior and social psychology. Assuming full-time enrollment, students can typically earn their undergraduate or Bachelor degree in three years after beginning the program, and their Master's Degree—a minimum requirement for practicing in the field—in 2-3 additional years.
Why Study Psychology in Belgium
Belgium is rich in history, culture and bountiful landscapes, and while it is generally known for its fine chocolates, delectable waffles, glitzy diamonds and wide assortment of beers, the country has far more to offer students studying abroad. Its varied landscapes of rivers, gorges, beaches and rolling plains makes it a paradise for outdoor enthusiasts, and its international flair, with students and business professionals from around the world calling the country home, means that students will always feel comfortable in their surroundings and never like outsiders.
Belgium is home to an abundance of museums, galleries, theaters, opera houses, and fine eateries, serving both local and international fare. Its nightlife is always bustling, whether at one of its many cinemas, discotheques or all night cafes, where students regularly gather to relax and unwind after a long day studying.
And finally, while Belgium may seem ultra-elegant, even snooty, on the surface, nothing could be further from the truth. Belgians are considered some of the most open-minded people in the world and they relish the opportunity to meet and befriend new people.