Study in Marbella, Spain
Study in Marbella, Spain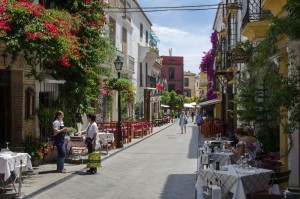 The streets of Marbella
Situated in the south of Spain, Marbella is a city and municipality belonging to the province of Málaga in the autonomous community of Andalusia. It is part of the Costa del Sol and is the headquarters of the Association of Municipalities of the region; it is also the head of the judicial district that bears its name.
Marbella is situated on the blue waters of the Mediterranean Sea, between the city of Málaga and the Gibraltar Strait, in the foothills of the Sierra Blanca. The municipality covers an area of 45 square miles (117 square kilometers), and is crossed by highways on the coast, which serve as its main entrances.
In 2012, the population of Marbella was 140,473 inhabitants, making it the second most populous municipality in the province of Málaga and the eighth in Andalusia. It is one of the most important tourist cities of the Costa del Sol and throughout most of the year is an international tourist attraction, due mainly to its pleasant climate and tourist-related infrastructure.
The city also has a significant archaeological heritage, several museums and performance spaces, and a cultural calendar, with events ranging from reggae concerts to opera performances.
Due to its beautiful coastal location, Marbella is seen as a resort town, drawing thousands of vacationers each year looking for an elegant Mediterranean experience.
Since the 1970s, Marbella has been renowned as a playground for the rich and famous. Yet underneath all of this swagger there is much more to Marbella. It has a wonderfully cosmopolitan atmosphere and simply exudes charisma; attracting visitors for its many wonderful characteristics, such as diverse beaches, a mild climate, several leisure facilities, including some of the best golf courses in Europe; Five-star restaurants, world-class nightlife and International luxury shopping brands. Marbella is also a very charming, warm and welcoming city, a stark contrast to other renowned vacation spots. Perhaps this is why the city continues to be one of the most oft-visited cities in Spain.
Things to Do and See in Marbella
From the beaches and enclaves of east Marbella to the western municipality of San Pedro de Alcantara, Marbella offers a multitude of activities and recreational facilities.
Orange Square (Plaza de Naranja)
In the famous Plaza de Naranja, or "Orange Square," guests can spend hours sipping sangria, taking in the beautiful surroundings and people, visiting the charming boutiques and gift stores and simply relaxing in the warm Mediterranean sun. The labyrinth of tiny streets and alleys that surround Orange Square will reveal even more specialty shops, selling all forms of trinkets, fashion accessories and souvenirs; and there are some excellent restaurants and bars that cater mostly to the college-aged crowd.
La Alameda Park
After visiting the Orange Square, make your way across the road to beautiful La Alameda Park, a scenic haven filled with exotic plants and trees, and walking paths leading down to an open exhibition area; where you can enjoy a permanent exhibition of Dali sculptures and temporary art and media exhibitions throughout the year.
Paseo Maritimo (Promenade)
Down from the park is the Paseo Maritimo (Promenade); this is one of the favorite spots for locals and visitors alike. This large boulevard is loaded with restaurants of all types and cuisines, with terraces facing out to the beautiful Mediterranean.
Beaches
The Marbella coastline stretches from the city of Cabopino through to San Pedro de Alcantara, forming 26 kilometers of golden sandy beaches, shelving down to the calm Mediterranean Sea. Here visitors can take advantage of all types of land and water-based activities, including cycling, roller skating, snorkeling, surfing and more.
Museums
While Marbella is by no means a large city, it does have its fair share of cultural attractions. If the day is overcast and you don't fancy shopping, then we recommend a trip to the Bonsai Museum (Museo de Bonsai), which houses a wonderful collection of Bonsai trees from all around the world. Art lovers have the choice of the Ralli Museum, a contemporary art space, with works from Latin American artists; the Poligono Gallery, a wonderful space created to emulate the art district in Beijing, and the Museo del Grabado Español Contemporáneo, which houses exhibitions of engraving and art works from national artists throughout Spain.
Shopping
Those looking to combine a beach holiday with a shopping trip will find that Marbella is an excellent choice for a destination. Between Marbella town and Puerto Banus there are an impressive mix of independent boutiques, luxury brands and international Spanish high-street brands, such as Zara and Mango. The luxurious nearby Puerto Banus is absolutely crammed with designer boutiques, and Marbella's Old Town is also a good shopping destination for specialty items, while La Cañada Shopping Centre, located on the highway above Marbella, is home to several chain stores, boutiques, supermarkets and DIY stores.
Festivals
Beginning in June, the summer season in Marbella gets going and with it comes a host of festivals and parties. Events include a weekend of pure opulence at the Marbella Luxury Weekend, and the annual Marbella Feria, a week of flamenco and fun. The summer solstice is celebrated on the beach for La Noche de San Juan, where bonfires are lit all along the beaches of Marbella. These three events take place in June.
The world-renowned Starlite Festival comes to Marbella in August, bringing together musicians and artists from around the world in a series of concerts to raise money for charity. Finally, the eco-holistic Arte Sano Festival, which takes place twice a year in July and November in San Pedro de Alcantara, is a fun and free-of-charge weekend of healing arts, an eco market, children's workshops and music.
For a dreamy, sun-bathed experience along the Mediterranean coast, there's not better city than Marbella. One of the most gorgeous, flora-filled cities in Spain, Marbella makes its mark on the European scene by offering unique cultural experiences alongside natural green landscapes. In a city that so flawlessly mixes nature with urban development, it's no surprise that students find creative release and intellectual inspiration in Marbella.
There is at least one university in Marbella, though it is mainly an English-speaking school, despite being located in Spain. Other more popular schools include international schools, specialty colleges and distance education programs. Marbella is not well known for its educational offerings; it has more of a reputation for a tourist town, so higher education facilities are scarce. The result is a limited number of choices for prospective students in the immediate city, as well as a limited number of degree programs within the schools themselves. The surrounding area and cities may have further options for higher education.
There's a reason tourists flock to Marbella, and students can enjoy the same activities that keep visitors coming back again and again. Going down to the pristine beaches not only gives students the opportunity to swim, surf and take a sailing trip, but also see the wonderful Marbella elephants. A multitude of parks and gardens intertwine with urban architecture to create many unforgettable sights. After taking a short cruise or visiting a historic museum, students can relax and sample fresh Spanish seafood for a meal.
Other considerations for future student in Marbella include:
Majority of courses taught in Spanish.
Crowded at certain times of the year.
Limited higher education opportunities.
Major Fields of Study in Marbella
Marbella is a tourist town; it seems natural that tourist-related studies (hotel management, public relations, leisure) receive greater popularity in the city than other programs in science or medicine. The only other kinds of courses that enjoy the same level of enrollment and availability are some design studies, thanks to an academy founded in the city by Spain.
The following studies do not encompass all studies available in Marbella, though they do represent the majority. Since there are a limited number of higher education opportunities in the area, the following studies have managed to accrue a great deal of student enrollment, popularity and graduation rates, thanks to the city's provided facilities and programs:
Business and business administration
Tourism and related studies (hotel management, etc.)
Art design (graphic, fashion, interior)
Schools of Marbella
The following schools are the primary locations for higher education studies in Marbella. This does not mean they are the only schools for future students; they simply demonstrate the most notable universities, colleges and other institutions in the area. Students should carefully consider these and other options before selecting a school in Marbella.
Marbella University is an English-speaking school offering both bachelor and master degree programs, though significantly more graduate courses are offered. It has an international student body and specializes mainly in business, tourism, communication, politics, education and other humanities studies.
Marbella Design Academy is an art and design school offering diploma courses in fashion, graphic and interior design. The mainly English-speaking school offers Spanish classes and language programs for bilingual students. The school also offers intensive summer courses.
Aloha College is an international school that teaches using a bilingual structure. Like many colleges in Europe, it only teaches limited higher education courses to students under the age of 18 or 19. Students can earn a sixth form diploma at this school, and covers a variety of essential course subjects.