Graphic Design Schools and Programs in The United States
Find Schools by City:
Abilene
Ada
Albany
Augusta
Azusa
Big Rapids
Boca Raton
Boston
Bridgeport
Cedar Rapids
Chicago
Cincinnati
Coeur d'Alene
Concord
Cranford
Davenport
Decatur
Detroit
Durango
Erie
Fort Collins
Fort Lauderdale
Gainesville
Germantown
Graham
Grand Island
Grand Junction
Greeley
Gresham
Gunnison
Hesston
Honolulu
Huntington
Iowa Falls
Jackson
Jacksonville
Kansas City
Kerrville
Los Angeles
Mars Hill
Miami
Montclair
Montgomery
Morehead
New Britain
New Brunswick
New Haven
New York
Newtown
Normal
Oakdale
Old Westbury
Oxford
Paramus
Parsons
Philadelphia
Pittsburgh
Pocatello
Randolph
Salem
San Diego
San Francisco
Selinsgrove
St. Clairsville
Tallahassee
Tampa
Tempe
Union
University Park
Vincennes
Waterbury
West Haven
West Lafayette
West Palm Beach
Westminster
Weston
Williamsville
Worcester
Graphic Design Studies in The United States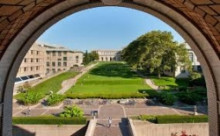 Graphic design is the art or creative procedure of visual communication that merges words, images, and ideas so as to pass knowledge to an audience. Technology and art go hand in hand in this form of design. A graphic designer is expected to organize and use elements of different forms of media and the main tools used in creation include typography and images. If this sounds like an interesting field to you, then you should consider pursuing it as a study and more so in the United States.
Studying graphic design in the US
As a graphic design student, there are a number of qualities you are expected to possess. These include creativity, being a good listener, effective communication, sketching/drawing, and having awareness of design theory and art history.
In the United States, students both local and foreign are expected to complete a few generalized courses to meet the college graduation requirements in English, math, psychology, science, and foreign languages, for instance. Students get to spend most of their time learning about the details of design. These can include color theory, art history, design theory, typography, and training for specific design courses.
Some of the sub-disciplines of graphic design in the country include machine design, product design, and interior design. Students get to acquire more knowledge on geometric drawing, color techniques, artistic illustration, photography, logo design, and advertising design as well. The study offers learners visual creativity skills and the capacity to incorporate design procedures and theory. Students also get the chance to learn different creative software programmes, layout optimization, and web design essentials.
Students wishing to pursue graphic design can do that at the different levels. The first is the certificate level. This lasts from a few months to a year and students are taught the principles of graphic design. The other level is the associate degree which takes two years to complete at a university or college. A student can also pursue a bachelor's degree which takes four years to complete. The other level is the master's degree which is an additional 3-year course after completion of a bachelor's degree.
Universities offering graphic design
Some of the renowned graphic design learning institutions in the US include Carnegie Mellon which allows learners to choose from their Industrial Design (design for services or products) or Communication Design (concentrating on the communication ideas) programs. The other is Full Sail University an up-and-coming learning institution that offers campus and online degree programs that focus mostly on project-based learning. The other is the Rhode Island School of Design (RISD) which focuses mostly on typography.
These are the best institutions to enroll for graphic design. There are other schools to choose from and other programs as well such as visual communications, visual design, advertising design, communication arts, or communication design.
Careers in graphic design
As a graphic design graduate, you can get work in different fields. These include branding agencies, design consultancy companies, publishing, communications, marketing, or advertising. Graduates can get jobs as technical illustrators, visual artists, logo designers, advertising designers, copywriters, web designers, or graphic artists.